Kid Cudi rushes after paparazzi who ask him about Kanye West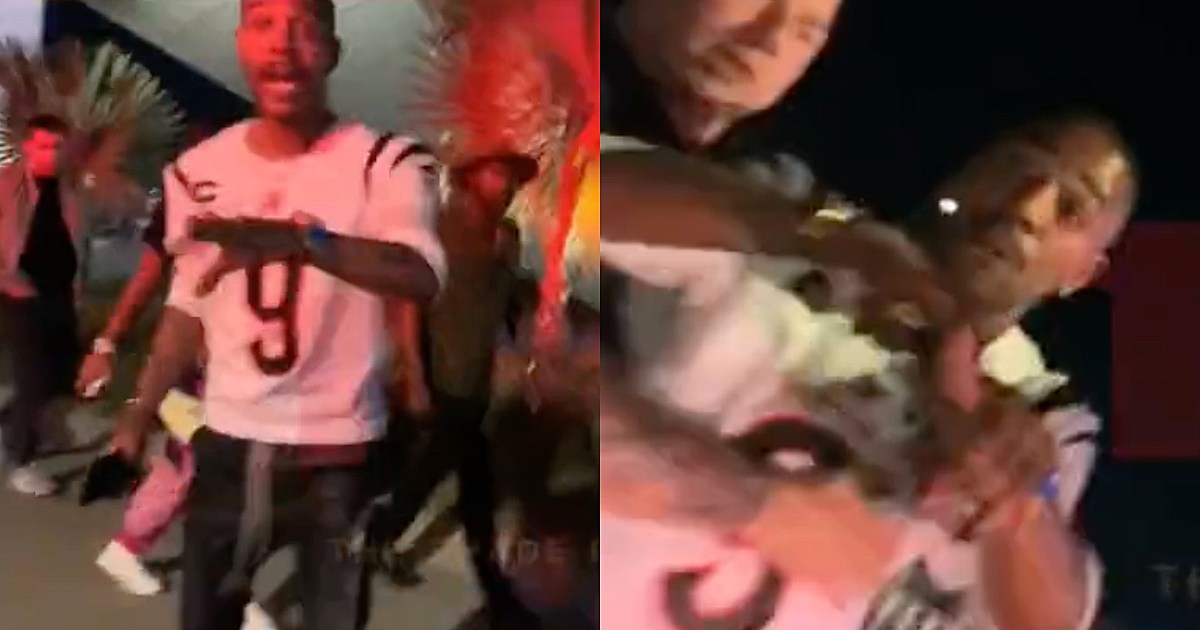 Kid Cudi doesn't hesitate to mention Kanye West's name.
After watching the Super Bowl LVI game between the Cincinnati Bengals and the Los Angeles Rams at SoFi Stadium in Inglewood, Calif., on Sunday, Feb. 13, Cudi rushed after a cameraman who asked him about Kanye.
On Monday, February 14, gossip blog The Shade Room shared the tense video on its social media. In the clip, the Cudder, flanked by two security guards, exits the stadium with a group of paparazzi in pursuit. "Hey Cudi, what's up man?" the photographer says to the Ohio-born rapper who looks very annoyed by the media attention.
Cudi then appears to give the man fair warning. "No bro, you're riding with me man, so keep walking," he said.
That's when the cameraman pushes his luck. "Cudi, words for Kanye, man," he shouts.
That's when Cudi lunges at the paparazzo and seems to shake him up a bit. "Okay, leave me alone," the guy begs. "Let's go let's go!" Cudi said before security pulled him away.
It seems Cudi is still bothered by Kanye's announcement on his Instagram account on Saturday (February 12) that Cudder will not be appearing in his upcoming 2 album.
"Just to let everyone know that Cudi won't be on Donda because he's friends with you know who. We're all speaking in the Billie language now," he shared in a since-deleted post from a letter. apparently handwritten.
It seems that Ye has a problem with Cudi because he is friends with Saturday Night Live comedian Pete Davidson, who is currently the boyfriend of ex-wife Kim Kardashian.
In response, Cudi slid into the comments section of Kanye's post and wrote, "Too bad I don't want to be on your album you fucking dinosaur hahahaha." He also added, "Everyone knows I've been the best in your albums since I met you. Please [for you] brother."
The "Day 'N' Nite" rapper then took to Twitter to explain himself further. "We talked about this weeks ago," he tweeted. "You're crazy for flipping the script and posting this lie just to peek on the internet. You're not a friend. GOODBYE."
"Oh man, I'm so blessed," Cudi added in a follow-up tweet.
Later that night, Kanye appears to have doubled down on his anger at Cudi. The Chicago rapper-producer hopped onto his IG page and posted a carousel of two photos: one being the cover of his joint project with Cudi Children see ghosts and the other of himself, Cudi and Davidson at a dinner party. Davidson's face was crossed out with a red X. "JUST WANTED MY FRIEND ON MY BACK KNIFE GOES DEEPER," Ye wrote in the caption of the since-deleted post.
Kanye also posted a meme that featured a photoshopped Marvel's Captain America: Civil War poster for the film, which pits Drake, Julia Fox, Travis Scott and Future battling Pete Davidson, Kim Kardashian, Kid Cudi, Billie Eilish and Taylor Swift. "INTERNET STILL HAS NOT FOUND A DECENT PICTURE OF SKETE," he wrote in the caption, presumably calling Davidson "Skete."
And finally, Kanye posted another meme of himself, Drake and J. Prince next to a photo of Cudi and Davidson with the question "Who will win?" above. He captioned the since-deleted post, "OK LAST FOR TONIGHT MAYBE."
Oh, and Kanye thinks Peter Davidson dated Hillary Clinton.
As for Kid Cudi, he seems to be in good spirits despite the Bengals losing to the Rams, 20-23. He even performed at the Bengals after party. Check out the videos below.
See the Most Brutal Diss Lines in Rap History
Which rapper has the most brutal diss?